Sales surge for fans and portable air conditioners
By Kymberly Martin
Many retailers out of stock.
The hottest summer on record has been good for appliance retailers as sales for fans and portable air conditioners surged, selling out in some stores.
"One of our best seasons for a long time," is how Haydon Myers,  general manager – home appliances at Harvey Norman described the rush to cool down with customers flocking into stores, particularly in regional New South Wales, Canberra and Sydney metropolitan areas.
"Customers were buying everything but portable air conditioners were in demand especially for cooling down bedrooms.  Our inventory was well planned so we were stocked to meet demand although some stores did sell out," he told AR. "In the buying frenzy customers were listening to what the sales person was saying and buying over the top of other customers."  He said while stock is still available the width of the range is not like it was five weeks ago. "We are preparing for the next heat wave that is predicted for this weekend in Sydney."
It was a similar situation coming from 2nds World with managing director, Peter Hammerman telling AR the retailer enjoyed its best cooling sales ever.
"We sold out of all our cooling products and brought forward orders but it still wasn't enough to meet the demand."  The star performer was portable air with all display models snapped up.
"Most suppliers could not keep up with demand however we are receiving fans from Western Australia where it has been cooler, hopefully before next weekend," he said. "Obviously the intense hot weather, particularly the hot humid nights, has had a huge influence on sales. When people can't sleep for two or three nights in a row they must have instant relief hence the popularity of portable air as it requires no installation. Our split system business was also exceptional and our installers were quoting three to four weeks for installation."
And customers were not buying on price: "When it gets this hot for an extended period, which we have just experienced, price becomes irrelevant", Hammerman said.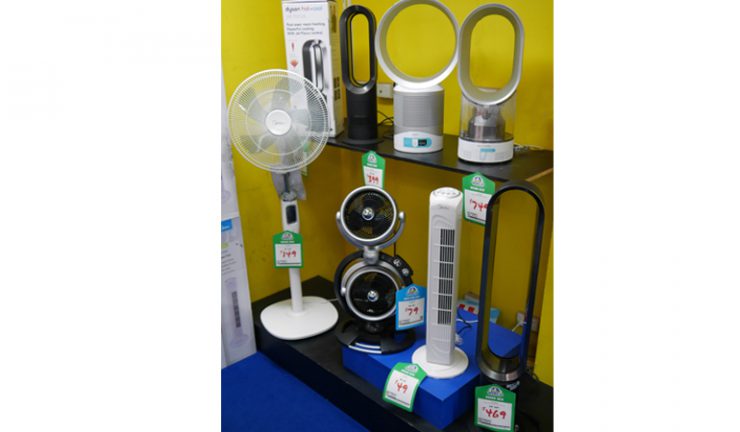 Sales went "exceptionally well" along the East Coast for The Good Guys, seasonal buyer, Andrew Foard, said. "It was a case of refill and refill with supplies exhausted in some stores and stock availability in many cases not always able to keep up with demand.  Portable air conditioners were very strong in NSW and Queensland where fans were also popular. Sales in Victoria were solid but soft in WA.

"Evaporative coolers have been strong too and while air conditioners don't get the spike like portables and fans which are an immediate solution, air conditioner sales were steady. There has also been increased demand for air purifiers."

Foard told AR customers bought on both price and availability in many instances.  "Some of our premium lines have been amongst our biggest sellers this season and sales for these appliances were not just boosted by the weather.  The season came late but when it arrived cooling appliance sales took off," he said.

The out of stock sign went up at the BSR group too, mainly for portable cooling and fans, chief executive Graeme Cunningham said.   "Sales in New South Wales and Queensland have been solid across all cooling segments with Victoria and Tasmania less so due to milder weather conditions."

When it came to price, like Peter Hammerman, his observation was that during the hot weather customers were generally more concerned about availability and installation times, not cost.

He too has experienced problems in getting more stock especially for portable air conditioners and fans. "Most suppliers only bring in limited quantities as it is very difficult for both retailers and suppliers to forecast.

"It has certainly been the best season for BSR in many years and summer is not over yet."  Cunningham said that refrigerator sales had also picked up during the warm weather.

Suppliers too were feeling the force of the heat with bullish sales. "It's been a great season with buoyant sales," Mitsubishi Heavy Industries senior sales advisor, Graham Hamilton said. "It's not often that you get continuous hot weather in all three eastern states at once."

It was a good season too for Glen Dimplex with the company selling out of fans and portable air conditioners in January. "Dimplex iSeries split system and window box air conditioners also performed well above expectations and with the weather finally hitting the East Coast it has been our best summer season for years," product & marketing coordinator, Stacey Pogorecki said.

The 2016/2017 cooling season for De'Longhi  "exceeded expectations" according to junior category manager,  Dunya Abdurahmanovic.  "Sweltering conditions saw stock levels depleting fast, particularly portable air conditioners. With temperatures still expected to linger well into March, this provides an opportunity for retailers to sell through any remaining stock."

Tags: news-2